As Miss PRCA Winter Western Heather will represent and promote the Professional Rodeo at other rodeos and many other activities and events thoughout the state of Wyoming during the coming year.

"What is the Winter Western???"

The PRCA Winter Western is a Professional Rodeo held February 8th, 9th, and 10th, 2002 at the Cam-Plex in Gillette, Wyoming. Hank and Lori Franzen of Powder River RodeoCompany have produced this rodeo for nearly 15 years. Throughout the weekend there are three rodeo performances, and a huge trade show, and many other activities taking place at the Cam-Plex. Don't miss the fun and excitement, see you at the Winter Western!

"So what has Heather been up to???"


As Miss PRCA Winter Western Heather will keep busy during the coming year traveling to rodeos and making appearances at events and activities throughout the state of Wyoming. During the Winter Western she will carry flags and clear cattle from the the arena during performances. She will also be doing a radio interview, signing autographs, and making appearances. Next Heather plans to attend "The Rodeo, The West, and The Lady," a three-day rodeo queen seminar in Casper. Including all the traveling and appearances Heather will also be spending many hours preparing for the Miss Rodeo Wyoming competition to be held during the State Fair in Douglas.

A Few Words From Heather:


"I would just like to take this opportunity to say "Thank You" to Hank and Lori Franzen for appointing me as the 2002 PRCA Winter Western Rodeo Queen. I also want to thank my sponsors, friends, and family for making the past year a success, I couldn't have done it without you! I am looking forward to another fun and eventful year!"

Below is a small "photo gallery" including pictures
taken during the PRCA Winter Western in Gillette, Wyoming.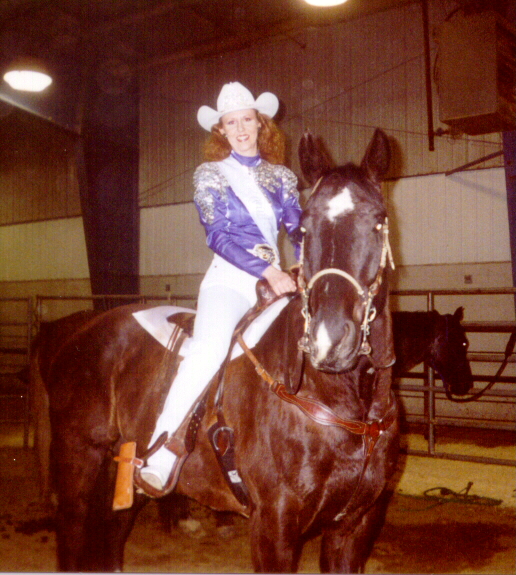 Ready to Rodeo!
The Town & Country Style Show at the Cam-Plex.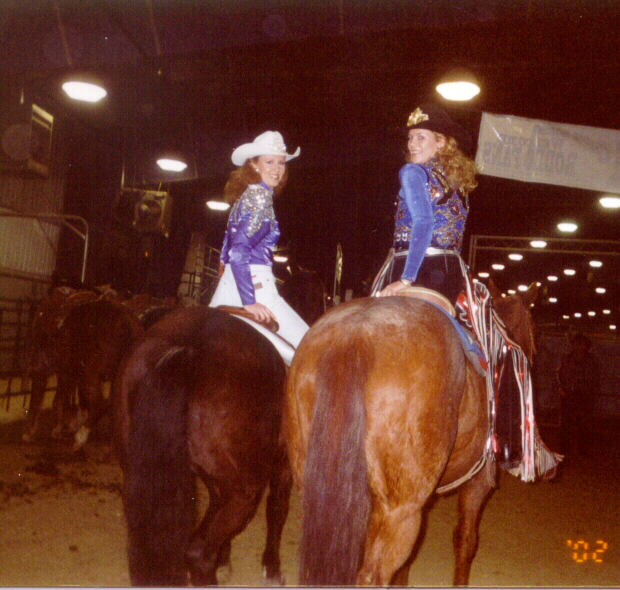 Miss Rodeo Wyoming, Tausha Simkins, and I before the rodeo.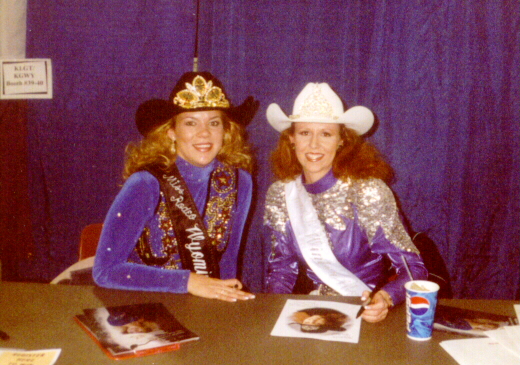 Signing autographs at the Cam-Plex.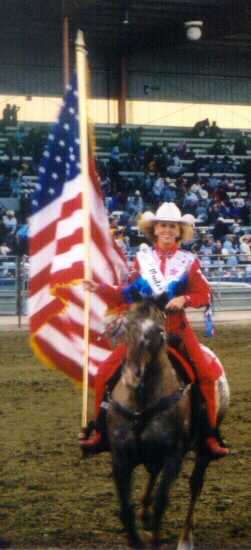 I had the tremendous honor of carrying
the American Flag at the Powder River Roundup!
To contact Heather via E-mail send messages to: moondance_21@hotmail.com
A big "Thank You" goes to these "Gold Buckle" Sponsors
for supporting me in my quest for Rodeo Royalty as the
2002 PRCA Winter Western Rodeo Queen!
ABC Signs & Specialties, Sheridan, WY
Photo Finish, Sheridan, WY
King's Saddlery, Sheridan, WY
Farmer's Co-op, Sheridan, WY
Tom Balding Bits & Spurs, Sheridan, WY
Fremont Motors, Sheridan, WY
Metz Beverage, Sheridan, WY
Coca-Cola of Northern Wyoming
Pepsi Cola Bottling Co., Gillette, WY
Chris Hepp Horse Training, Sheridan, WY
Darrel and Janet Orn

Thanks also to these special supporters!
Wild West Cellular, Sheridan, WY
Dan's Western Wear, Sheridan, WY
Parkman Welding, Sheridan, WY
Sheridan Motors, Sheridan, WY
Sherry Legerski-Hair Stylist at The Max, Sheridan, WY
Sheridan Printing, Sheridan, WY
Watermelon Patch Embroidery, Sheridan, WY
A Stitch In Time, Sheridan, WY
Kraft's Fine Jewelry, Sheridan, WY
Jiffy Lube, Sheridan, WY
Econ-O-Wash, Sheridan, WY

Back to "Heather's Rodeo Page"