The Veterinary Technician Oath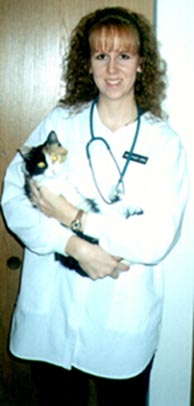 I solemly dedicate myself
to aiding animals and society
by providing excellent care
and services for animals,
by alleviating suffering,
and by promoting public health.
I accept my obligations to practice
my profession conscienciously
and with sensitivity, adhering to
the profession's Code of Ethics,
and furthering my knowledge
and competence through a
commitment to lifelong learning.
Adopted by the NAVTA membership in January, 1987.
Want to know more about Veterinary Technology?

I like this poem, so I thought
I'd share it. If you've ever read any
of the books in the All Creatures
Great and Small series by James Herriot,
this may sound familiar:
All things bright and beautiful,
All creatures great and small,
All things wise and wonderful,
The Lord God make them all.
Each little flower that opens,
Each little bird that sings,
He made their glowing colors,
He made their tiny wings.
The purple-headed mountain,
The river running by,
The sunset, and the morning,
That brightens up the sky.
The cold and wind in winter,
The pleasant summer sun,
The ripe fruits in the garden,
He made them every one.