A Horses Prayer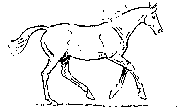 I pray thee, Master, to care for me through long
winter days and nights when I cannot earn my keep. Feed me and water
me, and give me a good warm bed, that I may keep well, and duly repay all
your kindness when Trail Riding season returns once more. Treat me
kindly, and do not beat me when I do not understand what you want me to do,
but watch me, please, and see if I might not be ill...my back, shoulders,
or feet be sore. Remember that I cannot go my own way, but must obey
your commands, My Master, and that I serve you well and faithfully to the
best of my ability. Please, Master, have mercy on me. Protect
me from the hot sun, the fall rain, and winters' ice and snow. Remember
that horses have long been the servants of man throughout the ages. We
have pulled the prairie schooners from sea to shining sea. Plowed the
new fields, that man might grow the food to keep body and soul together.
We helped build the mighty railroads; stayed with the cowboy through
his long night watch under the lonely stars. We died heroically with
man on the battlefield of nations. I shall do my part, for I have learned
to love thee well. So, my Master, when I am old , and can no longer
perform on the trail, and thus serve profitably, please do not turn me out
to starve, or sell me to some cruel man. Just let me die at the beloved
hands of my Master, and God will bless thee well. I do not think this
is irreverent, if I ask this in the name of He who was born in a stable.
In Loving Memory of
"Sar Bellerophon"
who brought Peace, Serenity, Love,
& Wisdom to all who know him.
El Shaddai Arabians
I found this on the inside cover of a horse catalog called Seven Bar

I'll lend you for a while
My grandest foal, He said.
For you to love while he's alive
And mourn for when he's dead
It may be one or twenty years,
Or days or months, you see.
But will you, til I take him back
Take care of him for me?
He'll bring his charms to gladden you,
And should his stay be brief
You'll have treasured memories
As solace for your grief.

I cannot promise he will stay,
Since all from earth return.
But there are lessons taught on earth
I want this foal to learn.

I've looked the wide world over
In my search for teachers true.
And from the throngs that crowd life's lanes
With trust, I have selected you.
Now will you give him your total love?
Not think the labour vain,
Not hate me when I come
To take him back again?
I know you'll give him tenderness
And love will bloom each day
And for the happiness you've known
Forever grateful stay.
But should I come and call for him
Much sooner than you'd planned
You'll brace the bitter grief that comes
And someday you'll understand.

DON'T CRY FOR THE HORSES
Don't cry for the horses
That life has set free
A million white horses
Forever to be
Don't cry for the horses
Now in God's hands
As they dance and they prance
To a heavenly band
They were ours to borrow
But never to keep
As they close their eyes
Forever to sleep
Their spirits unbound
On silver wings they fly
A million white horses
Against a blue sky
Look up into heaven
You'll see them above
The horses we lost
The horses we loved
Manes and tails flying
They gallop through time
They were never yours
They were never mine
Don't cry for the horses
They will be back some day
When our time has come
They will show us the way
Do you hear the soft nicker?
Close to your ear
Don't cry for the horses
Love the ones that are here

~Author Unknown