This page is dedicated to my horse,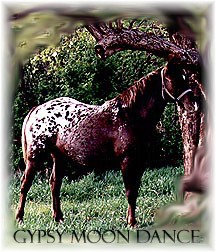 "Far back, far back in our dark soul,
the horse prances...
The horse, the horse!
They symbol of surging potency
and power of movement, of action..."
~D.H. Lawrence
Gypsy's Stats:
Registered name: Gypsy Moon Dance
Nick name: Gypsy
Breed: Appaloosa
Sex: mare
Weight: 1,172 lbs
Height: 14.2 hands
Birth Date: June 16, 1982
Birth Place: Knife River, MN
Markings: blanket on rear, star & snip
Color: chocolate/black
Sire: Linda's Freckles
Dam: Little Gal Nada
Owner: me!
Purchased: 1992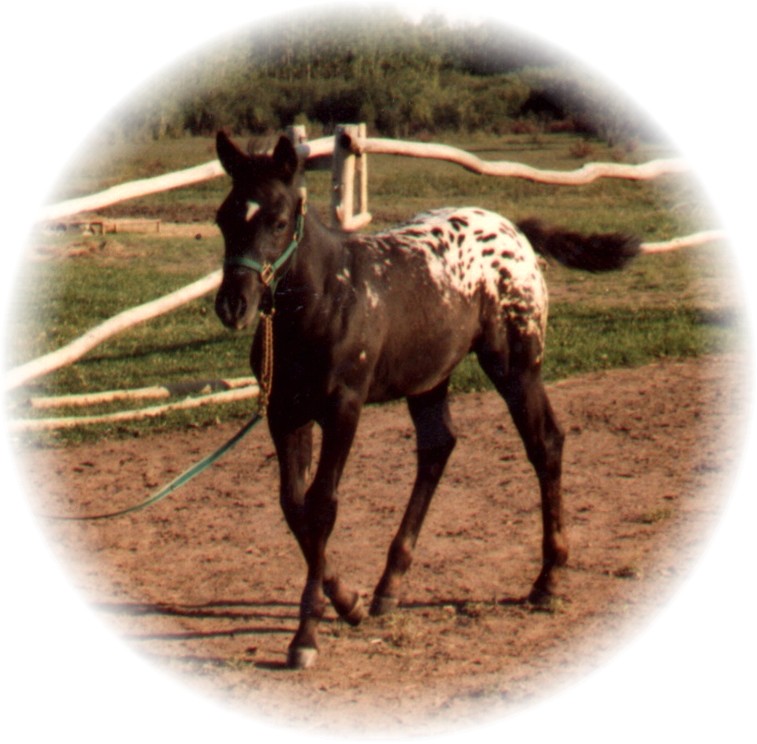 Gypsy was purchased by my when she was ten years old in 1992, I was twelve. She had never had any formal training, so she was green broke. Needless to say she was a bit of a handfull for me! Gypsy had many problems, primarily due to lack of experience and handling. She refused to enter a horse trailer or take a bit in her mouth. Gypsy was very barn sour and spooked at absolutley everything. After many miles, endless hours, and some help from a neighbor, Gypsy turned out to be a great horse. With work Gypsy over came her fears. Gypsy is a spirited horse that loves to run! But she is so tollerant when a child or unexperienced person rides her. Gypsy is a registered Appy but her dam was a Quarter Horse and she actually goes back to the famous race horse Three Bars! Gypsy is very versitile. I have succeeded showing her in Halter, Western Pleasure, Reining, Western Rinding, and even Hunt Seat Equitation and English Pleasure. My favorite events to compete in are the games like barrel racing, pole bending, and goat tying. I also love to ride her in parades (Appys are definately attention getters!) and I also enjoy trail riding. Gypsy is particularly talented when it comes to doing flying lead changes. So we would especially exceed in reining and western riding. She is the most willing horse I have ever ridden, she would run to the end of the earth for me. I have her trust ,so for me she will do anything, no matter how new or scary it might seem. Gypsy has a one of a kind personality. She is very inquisitive, always checking things out and knocking stuff over. Gypsy prefers the company of other horses, so she's not a loner. Gypsy is also a pig! She is such an easy keeper and would eat anything you gave her. I wouldn't give Gypsy up for the world, I'll never sell her. She will live out her life happily with me and die in the arms of an owner and friend that loves her. Gypsy Moon Dance sure is a character! I love her to pieces, she's the greatest horse. Gypsy has tought me alot, she's my best friend! Well, like I said, Gypsy loves people, and we like making new friends! So maybe we'll see you and your horse at a rodeo down the road!