I would like to use the skills and education I possess to have a successful and fulfilling career. I plan to barrel race professionally, I am very dedicated to that goal. I would love to barrel race full time. I know there are a million young ladies out there that want to go to the "NFR," however, I am very serious about barrel racing, it's not something I take lightly. An incredible horse with a ton of potential has come into my life, so I may be well on my way... I want to use the knowledge and experience that I have gained through my life to help others. Whether it's teaching children to ride, helping ladies tune up their barrel horses, or coaching a rodeo queen hopeful...
I want to meet a special cowboy and fall in love. He is caring but tough, honest and loyal. He is ambitios and supportive with a great sense of humor. My ideal man understands that a relationship is a joint effort. We would share common interests and be best friends. I can picture the perfect western wedding and little ranch to live on...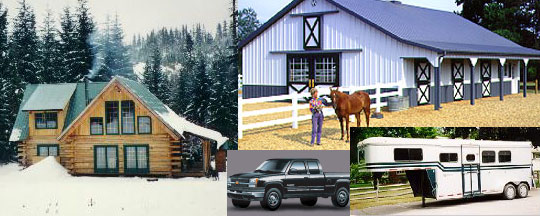 I would also like to have a nice reliable truck and horse trailer. For now a two horse gooseneck with a weekender package would be perfect. A beautiful home would be a bonus, but I don't need alot of fancy material things to be happy. A nice round pen and out door arena is a must. A large indoor arena would be great! I would like to live somewhere with pretty scenery to appreciate and enjoy.
I like to have a few horses, dogs, and cats, but not too many. I don't want to have more animals than I can properly care for and give attention to. I am not interested in raising animals. I get too attached to the babies and I think there are plenty of nice dogs, horses, etc. being bred and raised as it is. Some day I might want children. I 'd like to have a boy and a girl. I would like to live a comfortable life, it would be nice to not have to worry about money. But I don't need a lot of expensive things to be happy. All I really need is a roof over my head (and my horse's head) and a man that loves me.
To sum it all up what I really want out of life
is to make a difference and be happy!
"I have a premonition that soars on silver wings,
It is a dream of your accomplishments
Of many wondrous things,
I do not know beneath which sky
Or where you'll challenge fate,
I only know it will be high,
I only know it will be GREAT!"
- Anonymous